Barcelona Spine Center
Barcelona Spine Center is a private clinic specializing in Minimally Invasive Spinal Surgery.
Barcelone Spine Center offers:

* Minimally Invasive Spine Surgery
* High Tech Facilities
* Experienced Spine Doctors
* Western High Quality Medicine
* VIP services
Our specialists have over 15 years of experience in both Spinal & Neuro Surgery. Their Innovative knowledge, extensive preparation and in-depth knowledge of anatomy and surgery, enables our specialists to offer safe and effective treatment for a wide range of painful and debilitating conditions of the spine. Using state of the art technology and facilities, BSC focuses on providing the best and least invasive solution on a case by case basis.
We can provide hassle free treatment for such common conditions such as disc herniation, spondylolisthesis, to name but a few. In addition to Spinal Surgery, our surgeons also offer surgical treatment for brain tumours, aneurysm, reconstructive surgery etc. We also offer second opinions and surgical training.
We are well aware that there are a wide variety of pathologies related to the spine. This is why we believe that an exact diagnosis is the first step towards providing successful treatment & ultimately complete customer satisfaction
Our hospital is easily accessible by car and public transport. The rooms are well equipped to make your stay and recovery as comfortable as possible. All rooms are fully air conditioned & are equipped with automatic Venetian blinds, telephone, satellite TV and en-suite bathrooms as standard. The rooms are clean, comfortable and tranquil with fantastic views of the city and the sea.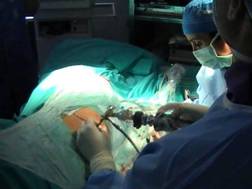 With Barcelona so close, you will have endless opportunities to recover at your own pace & enjoy all that Barcelona has to offer. The city, with its rich cultural heritage, breathtaking architecture, long sandy beaches and Mediterranean climate, has something to offer everyone. With the help of our partners, who are experts in tourist services, we're able to take care of all your travel arrangements & needs.


To book an appointment with Barcelona Spine Center, please register here. Registration is FREE.
Here is information about other international hospitals .